A medical device for a medical problem
At the heart of the TMJ Relax system is a prescription medical device.
That means it's different from occlusal guards or orthotics made by
dental labs (and can be billed to patients' medical insurance, too).
Using a unique, patent-pending design algorithm and production protocol, TMJ Relax is the first device of its kind cleared by the FDA for the treatment of headaches, muscle tension, and bruxism associated with temporomandibular joint disorder.
It's medicine meets dentistry—the combo this disorder needs for
effective relief.
Learn About TMJ Education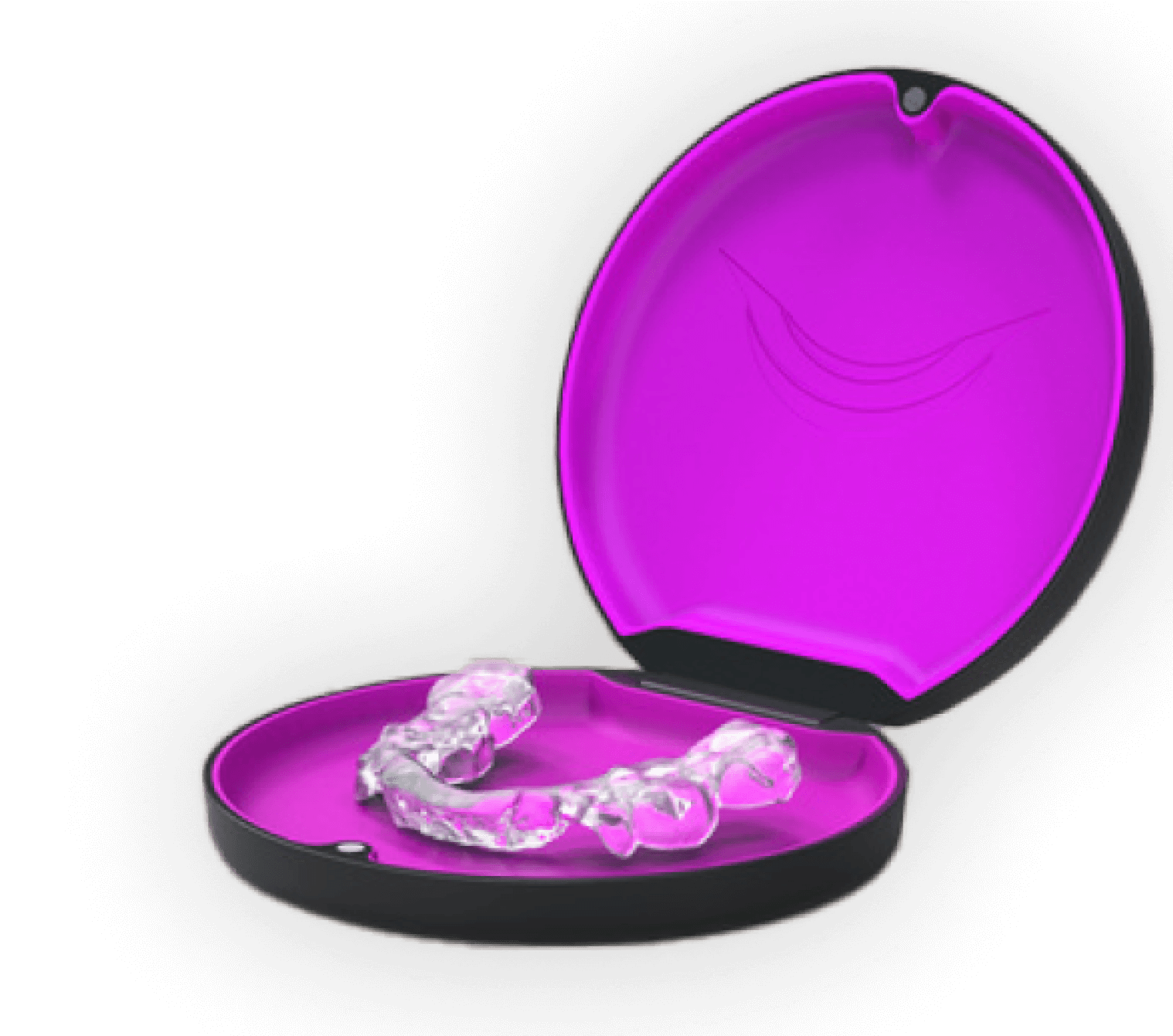 A smart addition to your
practice guaranteed
We know firsthand the impact TMJ Relax can have on a practice
and its patients. That's why it's guaranteed: Take the training and
adopt TMJ Relax for 30 days. If you're unsatisfied for any reason,
just email us for a full refund on your training investment.
BECOME A PROVIDER
It's easy to become a provider
Our system is designed to integrate effortlessly into your practice—no
expensive new equipment or time-consuming education programs required.
Get trained
Take our convenient, affordable virtual training course to become an approved provider.
The TMJ Education Master ClassTM will introduce you to the TMJ Relax way of treating patients simply, effectively, and profitably.
Get situated
After training, you'll receive access to our portal that has everything you need to get started implementing TMJ Relax in your practice—including marketing materials, billing support, and a direct line to our provider support team.
You'll also be introduced to an amazing community of fellow providers who are ready to make a difference, just like you.
Get going
Just like that, you're ready to start seeing your first patients. With our marketing running 24/7 behind the scenes, we may even send a few folks your way.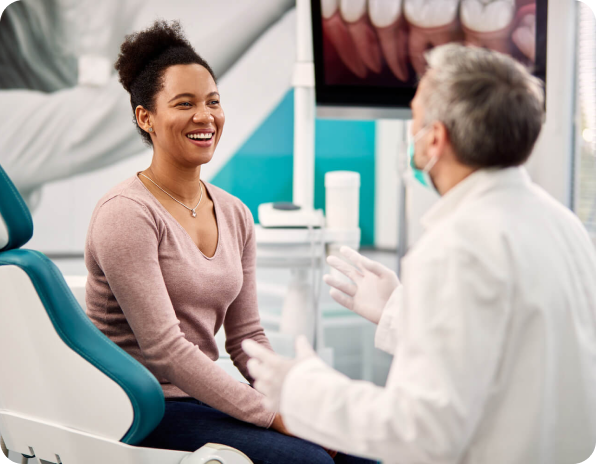 You can be up and running in days. Join our community
and we'll be with you every step of the way.
A better treatment for the millions of patients in limbo
Patients diagnosed with TMJ disorder are often left feeling like there's no hope. They get stuck in a stressful web of treatment trial and error, bouncing around between specialists and waiting for months to identify the right path to healing.
It's time to raise the standard of care for the long line of patients in pain.
As an expert in oral health and head/neck function, it can all start with you.
Contact to Learn More
31%
of the population1 suffers from TMJ disorder symptoms
5%
Only 5% of sufferers2 have received proper treatment
$4 Billion
is spent annually by patients on treatments and surgeries with varying efficacy3
A Custom
Prescription-Only
Solution
TMJ Relax is the solution the industry has been waiting for
TMJ Relax solves a number of problems with modern TMJ treatment  (yep, there are more than a few).
Simple, non-invasive method

Digital-only system that integrates with all intraoral scanners

FDA-cleared to treat the most common TMJD issues

Relieves the problem, not just the symptom

Profitable for providers

Accessible and affordable prescription for patients
Impact patients and your
practice with
It easily does what no other treatment has consistently been able to do:
A streamlined system that makes treating TMJ disorders simple

Relieve the underlying problem - position of the bite

Available by dental prescription only
Unlike any treatment you're offering
Already making custom mouthguards or orthotics? TMJ Relax is better on every level.
Advantages
Treats underlying cause of pain (mandibular position)
FDA-cleared medical device
Additional practice revenue stream
High rate of patient success
A consistent brand that builds trust
Affordable patient investment
Custom Orthotics
Maybe
Maybe
The only solution to address the real problem behind TMJD
What makes TMJ Relax different from any treatments you're already using?
It's a prescription medical device that allows the mandibular movements to retrain into a less symptomatic position—for lasting relief.
Other "mouthguards" record the bite in centric. That replicates the same cause of the problem: incorrect mandibular position.
TMJ Relax uses the patent-pending Rightbite™ technique to take the bite in a disoccluded position, to establish a better mandibular position.
Better position, better results.
A win for patients—and for you
While you're changing lives with TMJ Relax, the system will be boosting your business.
Less chair time

TMJ Relax is rooted in technology that reduces your manual workload. By the time you get to the chair, you've only got tweaks to make.

Fewer costly hiccups

Our streamlined system works the same on every patient, eliminating guesswork or the chance of making a mistake.

Higher revenue

With its high rate of efficacy, TMJ Relax is more valuable for the patient—and is priced accordingly. Plus, it's easy to take on a high volume of patients.

More satisfied patients

With TMJ Relax you can treat patients better and more often. Don't be surprised to see an influx of referrals as a result.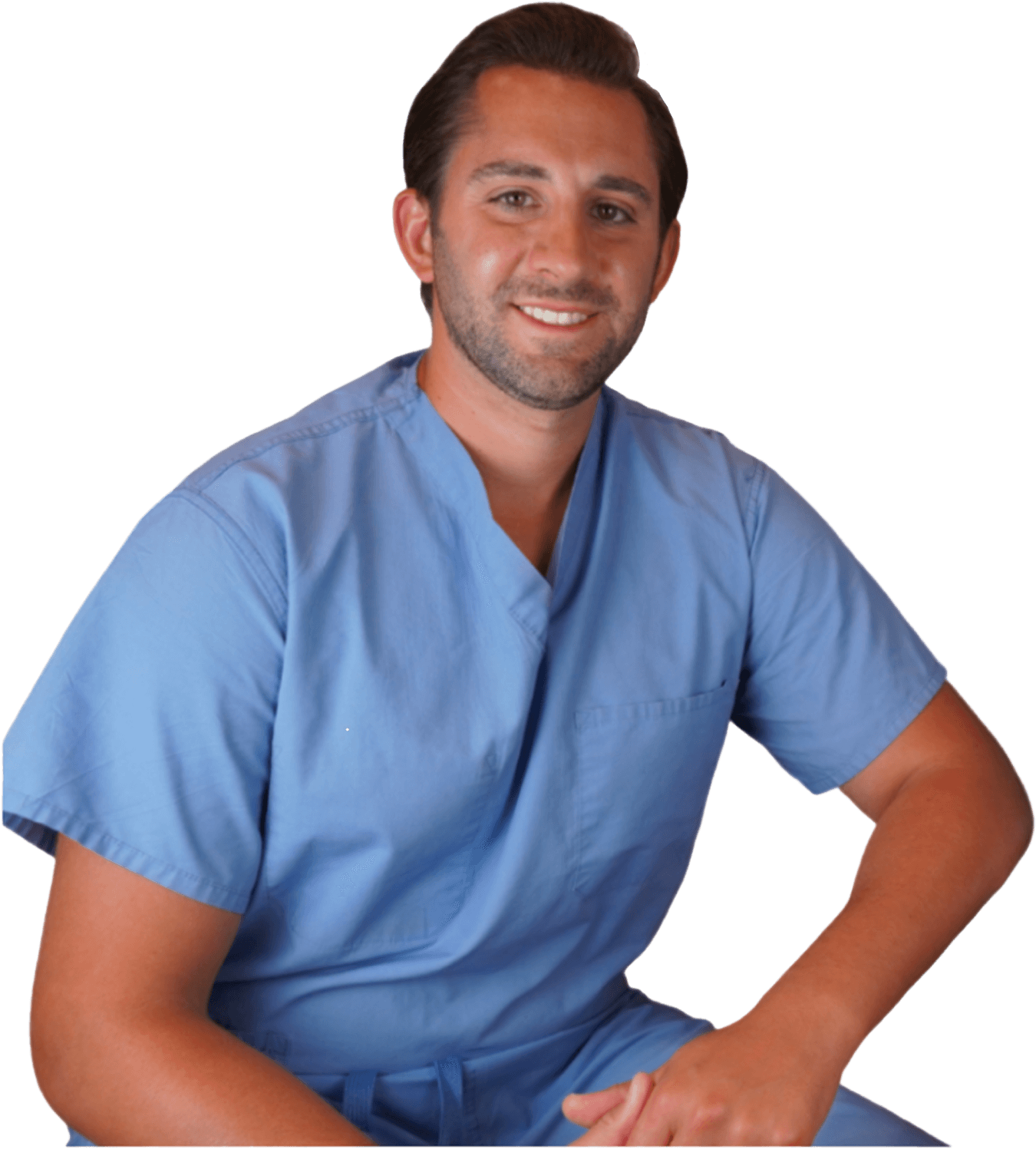 Developed by a dentist, for dentists
TMJ Relax was developed by Dr. Charles Sutera, a dentist who has treated over 10,000 patients with TMJ disorder—including some of the most complex cases in the country. Tired of seeing patients at their wit's end with chronic, unsolved pain, he set out to create an effective treatment that would get more people the relief they deserve.
Dr. Sutera studied dentistry at Tufts School of Dental Medicine and has invested heavily in continuing education—including TMJ training at the University of Kentucky with Dr. Jeffrey Okeson. Outside of clinical practice, he is highly active in the field of healthcare and serves as a thought leader, published journalist, a patented healthcare product developer, and a dental expert witness for law firms across the country.
A big believer that dentists are the best healthcare practitioners to treat TMJD, Dr. Sutera can't wait to welcome you into the growing TMJ Relax community of providers.
More great benefits to help you grow
As a dentist-developed product, we've thought of everything to help you succeed.
Exclusive financing rates

We provide financing to help patients afford treatment without excessive fees for your office.

Dedicated medical billing team

Our team will handle medical billing inquiries and submissions on your behalf, so your staff doesn't have to carry the burden. (coming soon).

Always-on marketing team

Get all the marketing materials and support you need from a team that's always ready to help.
A repeatable process for every patient
You'll love the simplicity of our step-by-step system that's the same for everyone, 
backed by decades of TMJ efficacy research.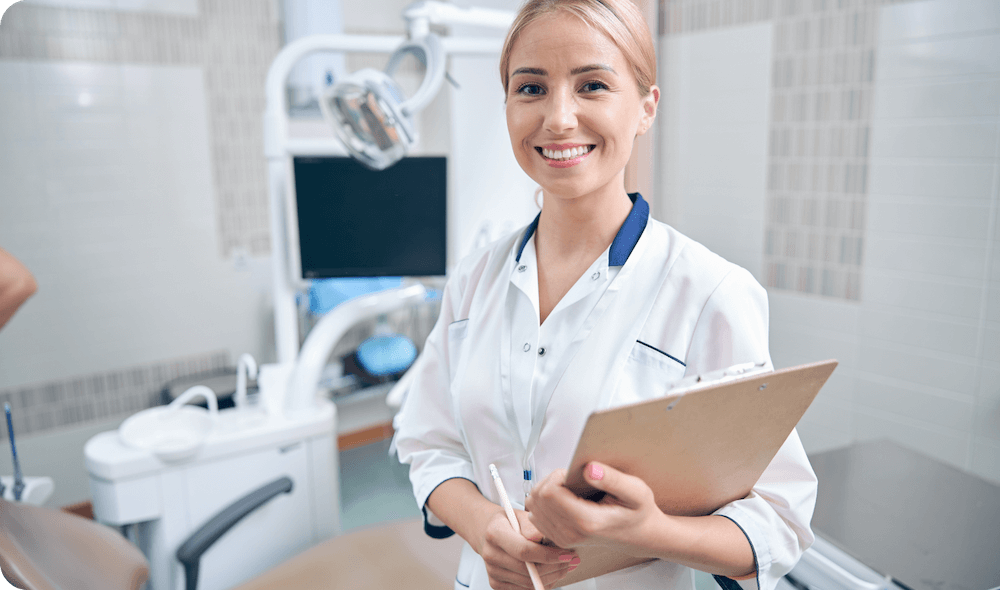 Diagnose
TMJ Relax starts with a comprehensive patient exam to confirm their symptoms are likely stemming from their TMJ. If they're a candidate, you can move forward with prescribing TMJ Relax.
Scan or take a traditional impression
You'll scan the patient's maxilla, mandible, and bite using our RightBite technique—then send the images electronically to our lab with one click.
Fit
We design and manufacture a custom orthotic device and deliver it to your office. The patient will come back for a fitting, where you'll fine-tune the device to get it just right.
Follow Up
You'll meet with the patient a few more times at your discretion over the course of 6 months, to check the progress of their bite position and make manual adjustments to the device as needed. 
Real people, real relief
Bring in more patients like these to your practice.
My life is back to normal! TMJ Relax was recommended by my dentist and after a few months of wearing it, I can live my life again the way I used to. No more pain weighing me down!
Sean B.
I love my TMJ Relax! My jaw doesn't hurt. I have fewer headaches and shoulder aches and I can't wait to see how much better it gets over the next few months!
Mike W.
Having had terrible weekly migraines for years, I would have never imagined that my relief would come from the dentist! My dentist looked at my health as a whole and found the root of my issue. TMJ Relax gives me a pain-free life back.
Jane R.
An amazing non-invasive way to get relief from suffering. TMJ Relax is a game-changer for anyone looking to avoid jaw surgery.
Sam A.
You don't need to live in pain! TMJ Relax is a treatment that finally helped me get rid of nagging jaw pain that had persisted for months! It has changed my life.
Jess L.
These questions are
probably on your mind…
Existing TMJ disorder treatments are historically time-consuming, laborious, and ineffective. If they were so great, we wouldn't have so many people suffering, right? The problem is our industry has traditionally treated the symptoms of the condition, rather than the cause, with superficial solutions like mouthguards. Not to mention, how much were you really educated about TMJ disorder in school? TMJ Relax will advance your knowledge of how this complex area of the human body works, and give you a simple, repeatable, effective system for treating the root cause of most patients' issues.
Sure, you could—but the resulting appliance will be different from lab to lab. You don't quite know what you're going to get. TMJ Relax is a medical device that consistently incorporates specific active features every time. There's no trial-and-error or guesswork involved, so you always get an appliance and your patients can trust.
Because TMJ Relax actually encourages the mandible into a more optimal position, and gets adjusted by you for best results over time, the patient can experience lasting relief. It's not the band-aid solution that a mouthguard is. This active retraining of mandibular movements makes TMJ Relax highly effective at stabilizing symptoms—and allows you to rule out other contributing factors. Of course, TMJ disorder is complex and people are complex. TMJ Relax doesn't solve every problem, but it does reduce tmj tension down to a manageable level in a large percentage of cases.
Our system is simple, on purpose. It's as easy as diagnose, scan, fit, and adjust. We've gotten it down to such a science—which you'll learn in our training program—that the appointments should only take you 15 minutes. TMJ Relax gives you a consistent, repeatable system so there's no time-wasting guesswork involved. Use the time savings to fit in more patients—or head home early.
Don't worry, the tech behind our system isn't here to replace you. We're founded by a practicing dentist, after all.
TMJ Relax will be your best assistant. (Every Batman needs a Robin.) It's here to save you time and guesswork.
This treatment couldn't happen without you because there are always minor discrepancies during the bite process that require fine tuning by a dentist at delivery, and as the patient's mandibular position relaxes over the first 6 months. Your job is safe with us.
TMJ Relax raises the value of your treatment offering through its higher price point and the higher volume of patients you can bring in. Since it's a more effective service for patients, it's priced above basic treatments. And while there are more follow-ups than say, a prescribed basic mouthguard, you're compensated for these. Our streamlined system also allows you to fit a lot of patients into your schedule. Overall, the patients get better treatment, and you earn more in your practice. It's a win-win.
The time for better TMJ treatment is now
The stats are telling.
The prevalence of TMJ disorder has never been higher and the compound annual growth rate of the temporomandibular industry is expected to grow at 4.18% between now and 2027.4
The stats are telling.
The prevalence of TMJ disorder has never been higher. The compound annual growth rate of
the temporomandibular industry is expected to grow at 4.18% between now and 2027.4
So why not take action now?
Why not elevate your practice
to help patients in need?
Why not add an additional
revenue stream to your practice?
So why not take action now?
Why not expand your skill set
to be a better overall
provider?
Why not differentiate your
practice with a powerful way
to attract new patients?
Why not be part of the solution?

There won't be a better time any time soon.
Become a TMJ Relax provider today
Bring the future of TMJ care to your practice and start treating patients
more simply, effectively, and profitably than ever before.
BECOME A PROVIDER